An overview of our homeschool Curriculum
Before our family gathering and before breakfast we read the Proverb of the day and a couple of Psalms.
In the Morning we have a
family gathering
during which time we cover some subjects together:
We are using Mystery of History Volume 2 along with History in the Woods Middle Ages projects.
For Science we use Answers in Genesis God's Design for Heaven and Earth. We absolutely loved doing this series last year and I expect we will enjoy it again this year!
Baptist Catechism we use Truth & Grace Books this covers memory verses, hymns & catechism questions based on the an adjusted Westminster Confession.
We also do IEW Linguistic Development in the morning and even our 3 year old twins have gotten in on the act memorizing poems.
Read Alouds- this is the time we have family read Alouds , we will start the Bronze Bow and Trial & Triumph next week.
US State Study Notebook
In the Spring (MOH Vol 2 is 28 weeks long) we will do Soli Gloria Deo Map Skills.
After the Family Gathering we start on our
individualized lessons
I try to meet the individual needs of our children without killing the teacher in the process. We basically have the curriculums that have worked well for us in the past and then if a child is struggling with that curriculum we look for something that is a better fit. For instance our 7th grader has mild autism and the repetitive, predictable nature of ACE is a great fit for her so she does several of their wonderful curriculums while our other children do other things.
Math
Our 3rd & 5th grader are doing Christian Light Education Math along with Life of Fred Math for added depth.
Our 7th grader is doing ACE Math she also does a consumer math.
All of them are doing Xtra Math an online drill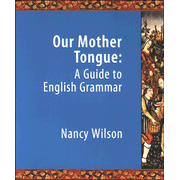 Grammar
ACE English (7th)
Our Mother Tongue (5th)
Climbing to Good Grammar for (3rd)
Daily Paragraph Editing grades 3rd & 5th
Writing
IEW Writing SWI-A
The Paragraph Book
Spelling
ACE Word Building
Building Spelling Skills (3rd & 5th)
Handwriting
Classically Cursive (3rd & 5th)
Home Economics
Foreign Language
Hey Andrew! Teach Me Some Greek.
Latin - Might be added for the 5th grader who has decided she wants to be a vet and thus she informed me she needs to know Latin.
Well, I hope you are all having wonderful start to the new year!
For a peek at other homeschools check out
Weird Unsocialized Homeschoolers