Do you really want to teach the Christian Classical Trivium? I mean really want to teach it and have that dreamy creamy kind of homeschool we all imagine? Well, that's pretty much what I'm going for, a joyful school with independent scholars lulling around the house reading wonderful whole books and engaging in spirited debates. Teaching the Trivium was one of those transformational books for me, because it changed my view of classical education. and I began to look at a classical education as something I could really mold to fit the needs of our family.
"Most Homeschoolers are familiar with the different methods and approaches to Homeschooling, and they may employ several of them. We wish to examine these approaches in order to see what light the Applied Trivium Sheds upon them. Before doing so lets review the Trivium model of child development" pa 278 Chapter 10. Our school is a combination of a classical & Charlotte Mason as we wholeheartedly educate our kiddos as the Lord guide us! Your school may be Principal approach, unit study or whatever wonderful approach the Lords has lead you to implement for YOUR children, regardless of approach we can all apply the Trivium's child development model, if we wish!
As I have been diving into the Trivium method of education I ran across this wonderful YouTube video. What makes it wonderful is that it is rare to see the Bluedorn's speaking. It's my understanding that the Bluedorn's no longer travel and during the height of their speaking tours we didn't have YouTube like we do now so I really haven't found a lot of video of them.
That said but here is Mr. Bluedorn giving a wonderful Introduction to the trivium. It is well worth the hour to watch it, so get a notepad and some tea and take some teacher in service time. You won't regret it!
I just hope you enjoy it as much as I did. Please let me know what you think of the video and the Trivium.
Homeschool Happenings:
What's Happening in School
When teaching our Curl one of the first rules is not to get behind in checking to make sure she is actually doing her work. She will sit and play princesses in her head and other such games instead of working. Well this was one of those weeks where I realized she was weeks behind in her work and it was my fault for not checking. I have remedied this with my new school check off lists. Which I love but none the less she has wasted at least 3 weeks (Seriously) by moving her pencil and randomly turning pages and actually completing her favorite subjects (Home Economics & Personal Finance). Sadly, this is not the first time she has managed this feat and every time I feel sick in my stomach as I go and tell my dear husband. The we sit down with Curl and outline her "make up work plan".
Recently, I was talking to a dear friend (who also has a kiddo with autism) who made a good point that she has to want to do it and that she may have reached a cross roads in education. A place where capable and willing are battling, a place where only she can forge a road. It is my hope that her road leads forward. But right now I am just waiting to see what she shall do.
Music
"Our [house] is alive with the sound of music"
I think this is going to have to include this regularly in our progress updates. Because along with really enjoying Chopin on the radio our three little pianist are preparing for Hymn Festival.
Beginner Band with retired Public School Band Director/Homeschool Grandpa leading
What is Hymn Festival you ask? Well our local music teachers association puts on a hymn competition during which they play two hymns for a judge and they are graded from unprepared to superior.The children receive a ribbon and a score sheet with constructive comments. Ultimately, at the end each child will be able to play their two hymns very well and what a blessing that is during family worship! We are really looking forward to the competition as we grow the next generation of church piano accompanist. Sweet Curl has been rather limited in her ability to do extra curricular activities but music is her acumen and she is even interested in a professional career in music.
Bullet is still learning to play the clarinet in the Homeschool Orchestra and we are encouraging her to continue to persevere through the squeals & honks, because the beauty of the instrument is just around the corner.
What I'm Cooking
Well I am an THMer so I've been working on some S recipes and this is our tostadas. I had to ditch the beans though after a chat with the moderator, but still super tasty!
What am I reading:
I finished Wuthering Heights and I'd like to tell you that is a depressing piece of literature about the depths of hatred, self loathing and foolishness. I am glad I listened to it because it was certainly engaging and I am still thinking about it and rolling it around in my head and trying to decide if I want to "read" anymore of the Bronte Sisters.
Well, I certainly hope that you have had an aspiring week too! Blessings! K
Linked to: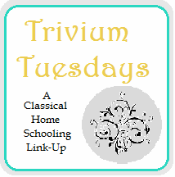 Great Peace Academy
,